When receiving the credit card:
1.please confirm that the name on the positive side of your credit card is spelled correctly. In the event of any mistake, please dial the 24-hour hotline 800-820-8788 immediately. If you use cellphone in the territory of mainland China or you are at foreign countries or Hong Kong, Macao or Taiwan, please dial 021-38784988;
2.Please sign your name of rear side of the card promptly and dial immediately the 24-hour hotline of SPDB to activate your credit card. We suggest that you establish the transaction password via the IVR voice self-service. After the password is established successfully, you can withdraw cash on ATMs and swipe the card for consumption with the password securely.
3.Mark of UnionPay organization, your card number, Visa anti-fake label, date of issue (month/year), maturity date of valid period (month/year), mark of Visa international organization, Pinyin of your Chinese name, offshore service hotline, CVV: on the signature column and following the last three digitals of the card number is the security verification and signature column (please sign your name promptly), 24-hour hotline of SPDB credit card center.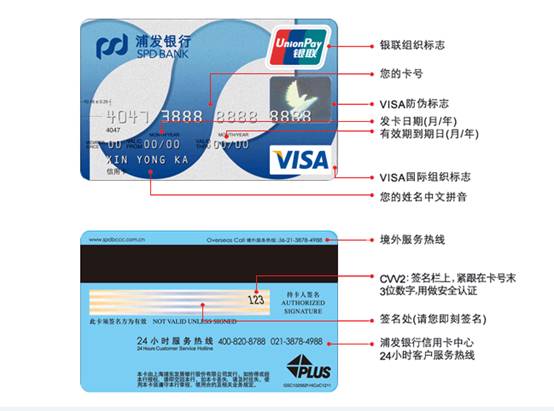 Utilization of password
When using the password:
To guarantee the secured utilization of the credit card, please change your transaction service password regularly.
Transaction service password:
1. As demanded, you can establish whether the offshore and domestic UnionPay transactions are conducted by password at your discretion*;
2. All transactions based on such transaction service password will be deemed as your behavior;
3. Please keep such password properly and change it regularly to guarantee the security;
4. You can change such transaction service password via the ATMs of SPDB or the online account service center.
* Such function is applicable to the holder who opens the service of consumption with password.
Accounting enquiry